Panasonic car stereo CD Changer Emulator circuit
News
30 April 2013 - Still active
No news is good news! I still make these units and I ship them whenever I receive an order. This message is added to let you know that despite little activity, everything's still as it used to be.
12 March 2012 - CDCEmu v5 is here
A new version of the popular CD Changer emulator is here! The reworked version has streamlined the manufacturing process but requires more expensive tools (which equals to a higher initial cost of manufacturing). The new version has all circuits embedded in the contact itself, and has thus eliminated the short cable from the contact to the circuit board.
30 January 2012 - CDCEmu v4 is selling out
I currently have only no units left. I won't be making any new v4 units.
17 February 2011 - Back in stock
Hi everyone,
I have assembled units ready for immediate shipment. Get them while they're still in stock!
7 April 2010 - Stock is depleting
Guys, I'm running out of PCBs to make the CDCEmu of now. I only got four three two NO boards left!
26 July 2009 - Back in stock!
Good news everyone requesting a unit the last month, I got a shipment last week and have been busy assembling a dozen units the last weekend. If you're interested in getting one, click the buy now button further down on this page. Thanks!
11 June 2009 - Temporarily out of stock
Let me know if you're interested in buying a unit. Currently, I'm out of units to ship but am considering to make another batch. I won't be able to ship until mid-July, though.
Background
I have a CQ-DFX301N car stereo in my car, and I lacked the support for reading CD-RW discs and MP3, and it didn't have an auxillary input. What it did have was an input for a Panasonic made CD changer, so I figured I could do something with that.

I found a DIN 8C port marked CDC on the back side of my head unit. After some research, I found out that the port is a communications port for a Panasonic made CD Changer. I figured that this port must enable the (Auxiliary/AUX) RCA inputs marked CD-C-IN, and so the CDCEmu unit was constructed.

I often get the question if it's not just a question of shorting two pins. The answer is NO - never try it, it will not work! The radio must receive a valid signal to enable the CDC inputs. If it does not, the CDC input is disabled within a second.
How to order
The CDCEmu v5 is available for sale. It is €17 plus €3 shipping (world-wide).
Your unit is usually shipped the next business day via regular air-mail.
Use your credit card or PayPal account and buy directly via PayPal!
Pictures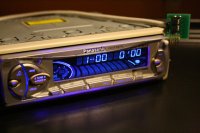 Shot of the CDCEmu v4 (development version) and CQ-DFX301N showing test data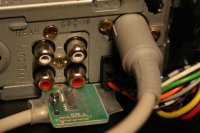 Shot of the CDCEmu v4 and CQ-DFX301N's rear side
Protocol details
Read more...
Contact
Kristoffer Sjöberg
kristoffer.sjoberg at galeno.se